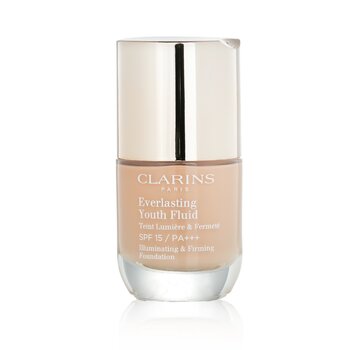 Clarins Everlasting Youth Fluid Illuminating & Firming Foundation SPF 15 - # 109 Wheat 30ml/1oz
A medium coverage, long-wearing foundation packed with aging-supported skincare ingredients. Hides age spots, fine lines & wrinkles. Nourishes skin with plant extracts. Firm & brighten the complexion with Chicory Leaf. Organic Oat Sugars deliver a lifting effect. Red Jania promotes cell renewal & enhances radiance while smoothing out skin. Available in a wide range of universal shades.
€
80.90
Free shipping, VAT included

Add to cart
100% genuine products guaranteed
FREE SHIPPING by registered post
Delivery usually takes 10-21 business days. Orders are delivered by Deutsche Post

30 days money back guarantee. If there is any problems with the products please send us an email and we will provide a solution to you, guaranteed.
We use PayPal to process secure payments, including credit card payments.
Your purchase is protected by PayPal buyer protection. If you do not receive the products, you can request the refund of your money.
There are no reviews yet. Be the first to write the review of this product